2019 MMSS Senior Graduation Celebration
June 21, 2019
Seniors gathered at the McCormick Auditorium in the Allen Center on Friday, June 21 along with their friends and family to celebrate the completion of their MMSS major. Director Ely kicked off the event with an acknowledgement of the tremendous work each student has put forth over the past four years. Several students earned MMSS Honors  by maintaining a 3.5+ GPA within their MMSS coursework. 
The Jeanette M. Dacey Prize for the Best Performance in Required MMSS Coursework went to Ted Zhang. Ted graduated with an MMSS and Chemistry degree from Weinberg.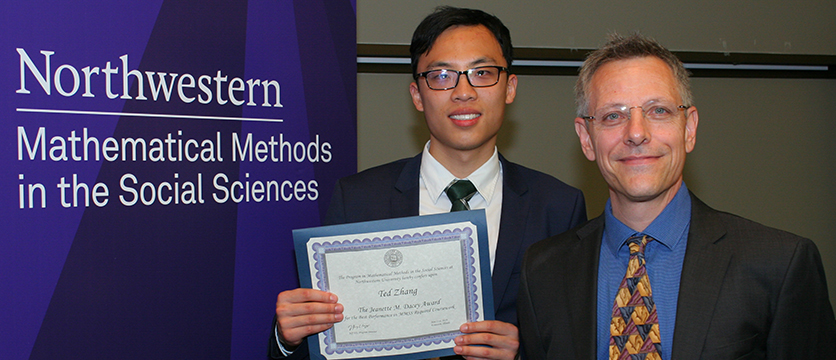 Pictured: Ted Zhang and Professor Jeff Ely 
Under the advisement of Professor Mark Iris, the Michael F. Dacey Prize for Most Outstanding Senior Thesis was awarded to Eric Rolfs, Saloni Singhvi and Josh Wasserman for their paper entitled "Police Use of Conducted Energy Devices:  A 2017 Analysis of the Los Angeles Police Department." The students were commended for their exhaustive review of large data sets and their findings will help shape the future TASER related policies.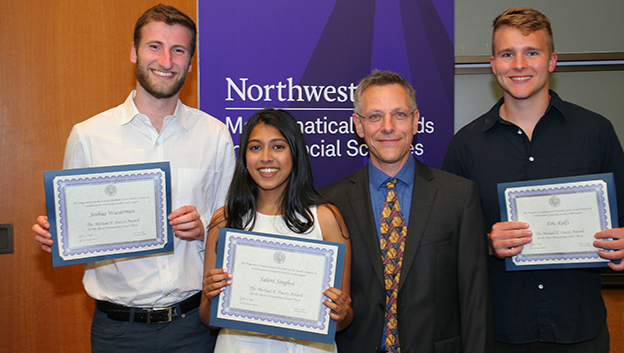 Pictured:  Josh Wasserman, Saloni Singhvi, Professor Jeff Ely and Eric Rolfs