Mallika Bhandari `19, Boston Consulting Group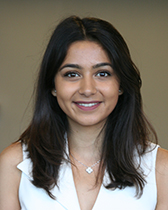 Why did you apply to MMSS?
I applied to MMSS because I was fascinated by the idea of solving social science issues through mathematical frameworks. Quantitative reasoning brought a new perspective to problems that, until that point, I had largely read about in words. However, the element of math that I loved most was not about the results, but about the process of taking a complex situation and logically dissecting it into component proofs. I was excited by a program that used both the operations and the methodology of quantitative thinking to solve the questions and issues I was most passionate about.
How has MMSS prepared you for graduation?
First of all, the knowledge I have gained through the MMSS courses has been incredibly beneficial. Take-away's from intersectional courses like econometrics and game theory have taught me principals that have been applicable across work experience in a variety of industries and roles! Arguably more than the content-based knowledge, MMSS has best prepared me for graduation by stretching and solidifying my work-ethic. The fast-paced courses and academic rigor of MMSS challenged me to work extremely hard. In doing so, I learned much about dedication and perseverance. These process-oriented lessons are the ones that I cherish above all else, for they are applicable in any situation life may throw my way.
What have you enjoyed most about MMSS?
Aside from the courses, I have really enjoyed being part of the MMSS community. My fellow peers, professors, and alumni have been some of the most remarkable, intelligent, and helpful people I've met during my time at NU. They both challenge and support me, and have grown into friends and mentors respectively.